LeFou is Gaston's diminutive, bumbling sidekick. LeFou looks up to his boss and "friend" Gaston and remains loyal to him, despite frequent abuse. His name is French for "The Madman", and also a phonetic pun on "The Fool".
In the Kingdom Hearts Unlimited Fanfic Saga, Lefou is a minor villain as he pretty much reprises his role from the film and continues to serve Gaston as his sidekick within the ranks of the Order of the White Rose.
Story
Appearance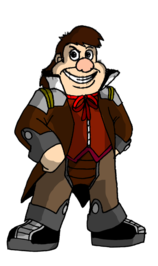 Personality
Ad blocker interference detected!
Wikia is a free-to-use site that makes money from advertising. We have a modified experience for viewers using ad blockers

Wikia is not accessible if you've made further modifications. Remove the custom ad blocker rule(s) and the page will load as expected.